mizu‐Q PLUS
製品情報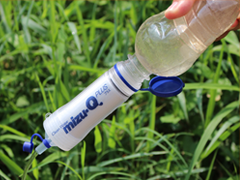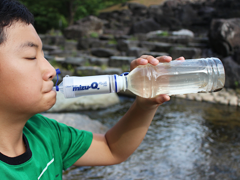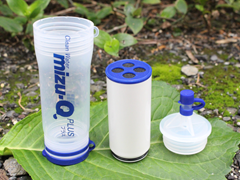 Water from river and water from pond are clean water-ized.
I'll take relieved safe drinking water.
Feature
Experiment by a general bacteria reaction test paper.
Make absorb a sample, it's 36 ℃ in a homeothermal container, after 24 time course.


(左:河川水、右:mizu-QPLUSで浄水化)

The bacteria which can be removed mainly:
A colon bacillus, dysentery bacteria, salmonella, a staphylococcus, a cholera bacteria, EKINOKOKKUSU and a mycoplasma.
Cartridge exchange method.
1


Mizu-QPLUS and an exchange cartridge are prepared.

2
A cap in a lip of the cup part is removed and a finger from the bottom.
(When a chief in a lip of the cup part twists foundation, it comes.)
3
Before putting a new cartridge in, please wash the inside for the clean water by which it's for tap water.
4
It's exchange completion including a new cartridge.
Please tighten a cap in a lip of the cup part tightly.
5

Please confirm whether no water is leaking through the clean water which is tapwater before use after an exchange.


When water is leaking like a picture, there is a fear that bacteria flows in.
Summary
Brand name
mizu-Q PLUS
Clean water ability
About 350ℓ(In case of tap water)
The water which can be used
Tap water or the water fish lives(Fresh water)
The water which can't be used
Desalting of seawater,Soft water-ization of hard water,The water in which medicine is mixed.
Size
⏀40.5㎜×h134㎜
Weight
About 65g
Main part
Fibroid activated carbon
Material
Polypropylene, ABS
Producing country
Made in Japan.
request price

mizu-Q PLUS‥‥‥‥‥‥‥4,200 yen (without tax)
cartridge attaches‥‥‥‥‥‥2,600円(without tax)


→Cartridge attaches to the body.
If it becomes difficult for water to come out, it can be used once again by changing a cartridge.
Precautions for use
When water flow has become bad, please exchange a filter cartridge.
A fish can't use the water it isn't possible to live. Because a poison may be included.
It isn't possible to change water from sea to fresh water.
It can't be installed in the plastic bottle which isn't made in Japan.
Please keep a lip of the cup cleanly.
If I finish using it, please wash with clean water.Please tighten a cap tightly.
ご質問・ご不明な点がありましたらお気軽にお問い合わせください
お電話でのお問い合わせはこちら
03-3489-5211